Dear Radiance experts,
I am a PhD student who is trying to compare different image-based simulation methods (3P, 5P, ClimateStudio, Honeybee DC, and potentially Raytraverse) in their hourly DGP values. The ultimate goal is to select an accurate and efficient method to define the maximum allowable openness factor (direct-direct) and visible transmittance (direct-direct + direct-diffuse) of roller shades for a specific city and orientation. Currently, we assume that aBSDF + 5P method is the most accurate one. I am using information in this post (gaussKoteyBSDF) to generate BSDFs for roller shades.
I am following @sarith's tutorials of 3P and 5P method and have some questions about BSDFs and the methods.
1. BSDFs in 5P:


I noticed that several posts suggested that glazing should be modeled as a glass type in the sun-coefficient simulation. Does it mean that the glass type is more accurate and has a finer resolution than the BSDF type?

I am not sure whether BSDFs generated from LBNL WINDOW for 3P simulations will be consistent with the glass type in the sun-coefficient simulation.

aBSDFs are recommended for roller shades which have a view component. Is that correct that aBSDFs can be used to separate the direct-direct and direct-diffuse components for roller shades? If this is not the case, openness factors (direct-direct) of 1% and 5% will not make a difference in DGP values when roller shades have the same total visible transmittance (direct-direct + direct-diffuse).

Is that correct that BRDFs and BTDFs are both used in 3P simulations? Thus, the color/reflectance of roller shades is considered.
2. Modified 3P: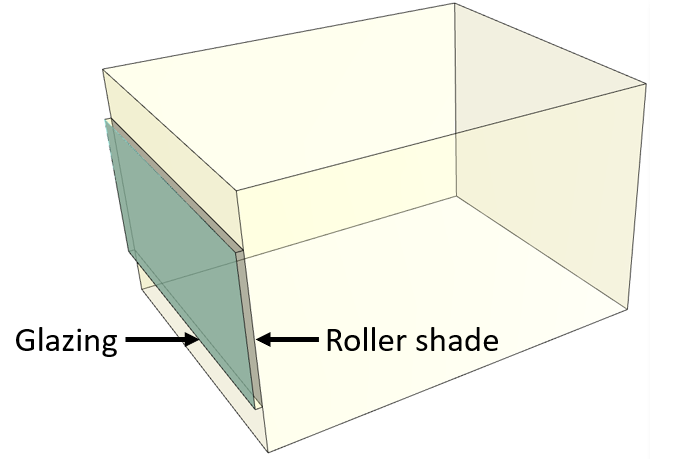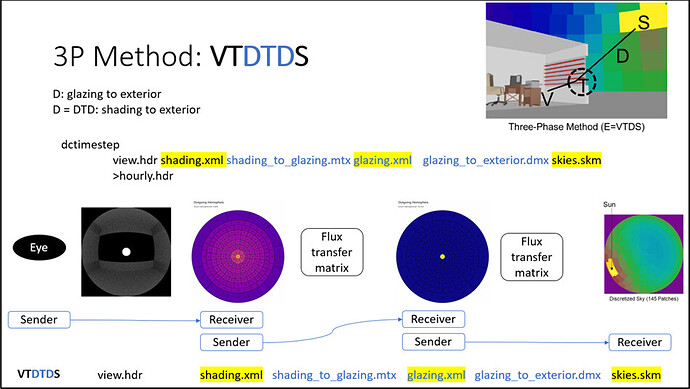 To avoid the complexity of generating a single BSDF xml file (composed of both an enclosed roller shade and a glazing system), I modified the original 3P method from VTDS to VTDTDS as shown in the figure above. I am modeling the roller shades and glazing as glow sources, and explicitly use their T matrices, so I only need to replace "shading.xml" when evaluating different roller shades. However, I am not sure whether the modified 3P is still valid.
3. Sun-coefficient simulations:
I can run a MF: 3 simulation on a Window system, and this seems to be the finest resolution I could have. Will there be a significant difference in the glare results when we switch from MF:6 to MF:3?

Current I have results from two sun-coefficient simulations (glazing only no shades, 400 x 400).
a. With a MF:3 simulation and a glass type in the sun-coefficient simulation, the sun disc is a small dot. Compared with 5P, 3P underestimates DGP values.



b. With a MF:1 simulation and a BSDF primitive for glass, the sun disc is bigger. With a BSDF material, we see more noise in the thrid term hdr image. Is that true that with a glass type (without any shades), we see sharp edges of the solar component? Hourly DGP values in this case are similar to the ones computed from the 3P method.

4. genBSDF:
I tried to use genBSDF to generate a BSDF xml file for a glass material, but encountered an error "Device entirely inside room!"
genBSDF +f -c 500 -geom meter glazing_glass.rad>glazing.xml
The rad file looks like this:
void glass glazing_glass
0
0
3 0.55 0.55 0.55
glazing_glass polygon glazing_geo
0
0
12
0.000000 -0.08 0.6
0.000000 -0.08 2.4288
4.000000 -0.08 2.4288
4.000000 -0.08 0.6
Thank you so much for you time and patience!
Best,
Sichen