I understand this is an extremely overly broad question, but I was hoping for some tips from the experts here

As you may know I have modelled my real life living room as a learning exercise. I studied architecture, but I have done 3D modelling / rendering of the "artistic" sort in the past. I do not have any training in lighting design or light engineering. However, despite the lack of formal training, I'd like to analyse my designs more quantitatively.
Here is a luminance falsecolour (i.e. rendered regularly, and then run through falsecolor -i render.hdr | ximage.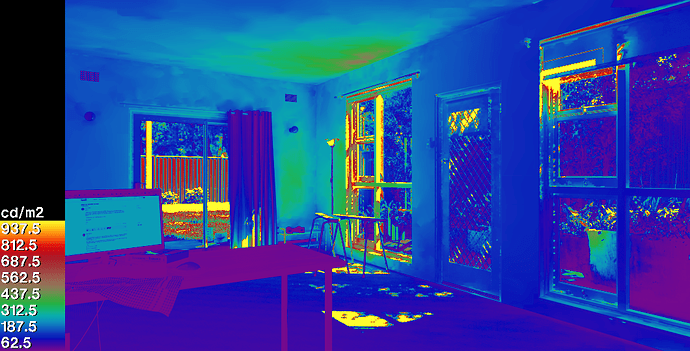 I then produced an illuminance falsecolour (i.e. rendered with the -i option and then run through falsecolor -i render_i.hdr -l Lux | ximage. There is a slight mistake as the keyboard is abnormally dark because its material is excluded with -aE.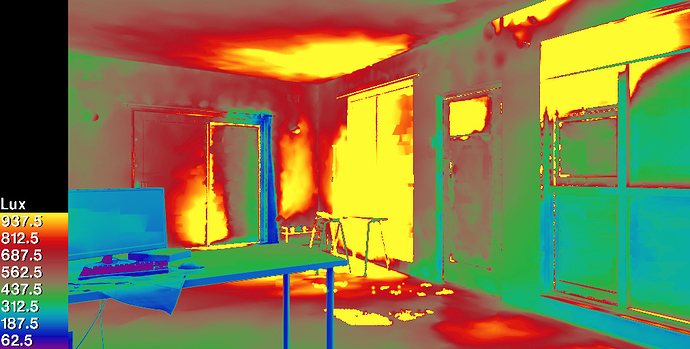 I am curious about what are perhaps the 10 things you might look for when analysing these types of falsecolours. Here's my attempt after skimming through the IES lighting handbook with an untrained and inexperienced eye.
There is ~300-380 lux on the work table. I read that 250 lux is the minimum for a workspace and usually offices will aim for 320-500 lux. So, uh, it's OK but not great I guess? Definitely can't do arts and crafts on that table.
The luminance of the ambient area is much brighter than the work area. Not good. However, the luminance of the computer screen is generally much more than the environment.
I read that people enjoy a working plane luminance of 130cd/m2 ± 20cd/m2. This seems quite far below. Shame. I guess it's a bit dark. Never really thought about my table that much.
There isn't a large contrast of luminance within the working plane, which means it is nice and uniform.
Generally I am sitting facing a heavily illuminated corner of the room, which is nice.
The dominant illuminance is natural (my lamp is not even required), this is nice.
The non uniform illuminance provides interest and highlights the plants outside. I like plants.
In addition, what are the main ways you might analyse the space? How can I analyse the daylight factor using Radiance? Is there a way to calculate the daylight autonomy of the space? Do you check for glare in every space? How can you measure how "warm" the colour of the room is?
Hoping to learn more