Dear Radiance experts,
I am using aBSDF type materials to model roller shades using 5pm for annual glare risk assessment based on DGP.
I ran the same set of input files on Windows and Linux twice, but the maximum luminance values from Radiance-Linux ( Radiance 5.4a (2023-01-29)) are much higher than those from Radiance-Windows ( Radiance 5.4a (2023-01-13)), particularly when the sun is at the edge of the façade.
For example, at 10 am on March 6th, in Chicago:
| | Windows | Linux |
| --- | --- | --- |
| Maxmum luminance in cds hdr image | 3.78E+06 | 1.98E+08 |
| Maxmum luminance (blurred 5pm) | 3.31E+06 | 1.71E+08 |
| DGP (blurred 5pm) | 0.32 | 0.48 |
Although Linux Radiance detects a glare source to be above 1.98E+08, it looks like a single pixel and I could not manually locate the glare source using "hdrscope". When I tried to select the glare source from both cds hdr images, the glare sources were around 3.78E+06 in both images.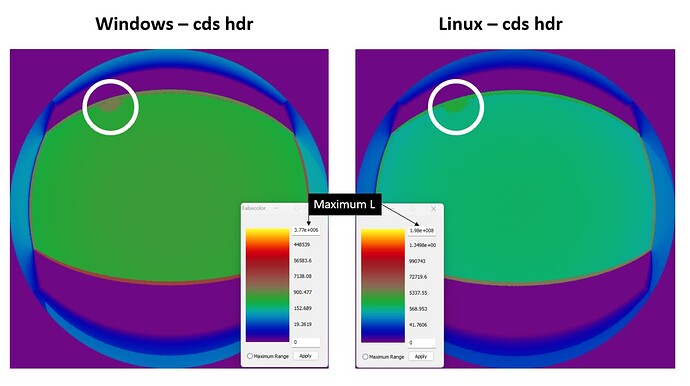 Could be possible that the PE algorithm on Radiance-Linux and Radiance-Windows are slightly different?
Is it sensible to replace the luminance value of a single-pixel glare source for the scenarios when the sun is at the edge of the façade, or add a narrow black mask along the edge of the facade on the original cds hdr image? If so, I wonder how to replace luminance values in parts of a hdr image.
Thank you for your time and patience!
Best,
Sichen