Hi the community,
I'd like to follow up with the previous post on locating glare sources.
At this time, I attempted to select a view position and created an HDR file from the climate studio and imported it into findglare and evalglare for locating glare sources. I got the output from both programs, as shown below.
findglare


evalglare


Both output files show the x, y, z directions of the glare sources. I was wondering what the reference point(origin) is for these x, y, z directions? Is the selected view position the origin point(0,0,0)? The reason I asked this question is that when I tried to visualize these glare source points in the 3-dimensional space, the locations are a bit off, especially the z directions for both. Also, the outputs of glare sources slightly differ between the two programs.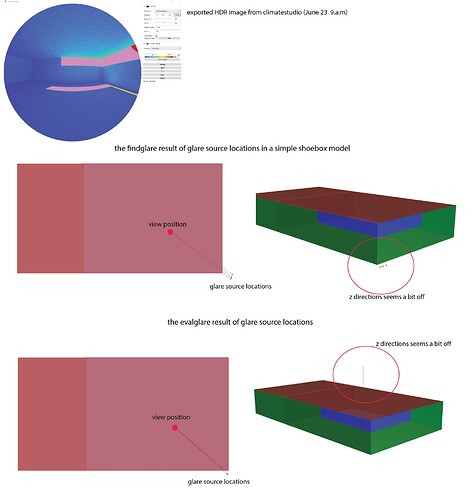 Probably I totally misunderstand the meaning of XYZ directions at all. My purpose is to map glare sources on the building facades in Rhino.
Many thanks in advance!