Hallo everyone,
Im trying to use Radiance to calculate the irradiance on a surface. But when I compare the result from Radiance to the expected data I can see that there is something wrong. In generall I observed that with Radiance the calculated irradiance is overestimated. But I think the origin of the problem lies in the handling of Radiance.
To find the error I´ve created a simple scene,


which contains a surface and a plate which has 90 degrees to the surface. The plate is oriented towards the south. I choose this scene, because one is able to calculate the irradiance analytically. For measuring the irradiance on the plate with radiance I created a sky file with gensky at first. Therefore I used
gensky -ang altitude azimuth -R direct_horizontal_irrad -B diffus_horizontal_irrad

I already checked that the angles are correct. Therefore I used gensky month day time which calculated the angles automatically. I use the direct and diffus horizontal irradiance from a whether database. I also checked that the global horizontal irradiance (GHI) is calculated correctly, which is the case.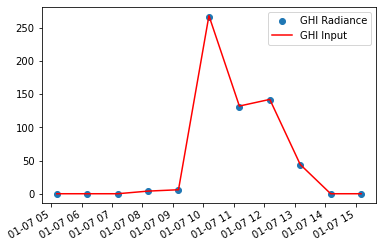 By the way for calculating the irradiance I used:
rtrace -I -ab 2 -aa 0.22 -ar 512 -ad 1024 -as 512

But if I now try to calculate the irradiance on the south surface of the plate (POA) I get an irradiance mismatch. And I cant figure out why there is a mismatch.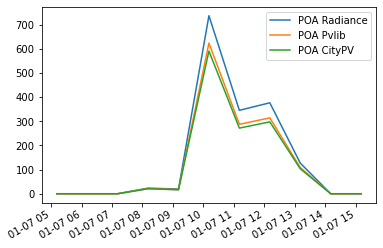 You can the the radiance result, the analytical result (Pvlib) and the result from a diffrent raytracer (CityPV).
You can find the files for the simulation in the following Dropbox folder: Dropbox - Radiance Problems - Simplify your life .
I would be greateful for any type of clue.
Greeting Philip