Hello,
I have a problem with the aBSDF function. Trying to model a glass with a BSDF distribution, I have compared the result using BSDF and aBSDF object.
Even if the aBSDF show rendering with a better viewing of shadows, the mean lighting of the zone is significatively lower (until 40% less) than the results with BSDF. Comparing with a classic glass with equivalent transmission, it seems than the problem come from the aBSDF model.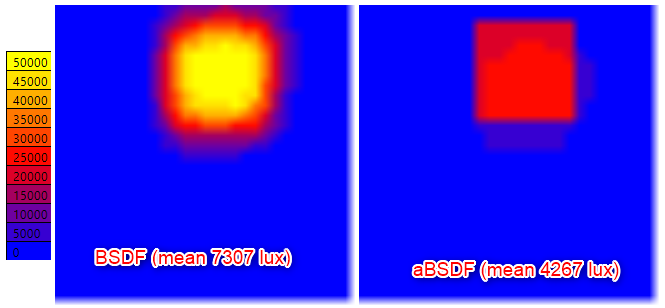 Do you know where this difference can come from ?
I tried to understand the source code, and the compute_through function specific to aBSDF. I'm not sure to understand correctly the strategy with the near peak areas but I wonder if we shouldn't use vpeak + vsum in the cthru attribution unlik only vpeak.