Hey all! I just wanted to share that I've done a series of renders to demonstrate different values of specularity and roughness. It's similar to Rob's examples in the Siggraph 98 PDF, except I've recreated it with some other objects

Here is an example comparing plastic and metallic:
And a thumbnail of the metallic chart: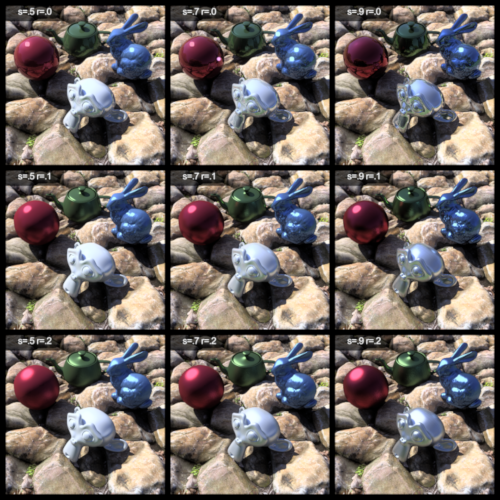 You can see all the rest of the charts (for plastic values and metallic values) at the link below. I hope you find it useful! I'm not attaching it here because the high resolution files are quite large in filesize:
https://thinkmoult.com/radiance-specularity-and-roughness-value-examples.html
I've found that looking at these help give me an intuitive understanding of exactly what different values of specularity and roughness represent, and help me "guestimate" those of real life objects a bit better.
I would also appreciate any feedback if I have any wrong explanations in that webpage about my understanding of specularity and roughness.