Hello everyone,
I'm trying to use Radiance to see whether a camera, in situation with just one light source, would receive enough light to see anything and what efficiency there is between energy consumed by the light, and energy received by the camera.
The scene is very simple, a kind of torchlight illuminates an object, and some of the reflected light comes back to the camera which is close to the light source.
What I've tried is creating a fake camera, with genbox, and making an illuminance false-color image of it (the light is a bit behind the camera so it doesn't light it directly).This seems to be working more or less, however I've sometimes found things I cannot explain. The image below shows one such example, as well as the scene in Blender, in case my description wasn't clear.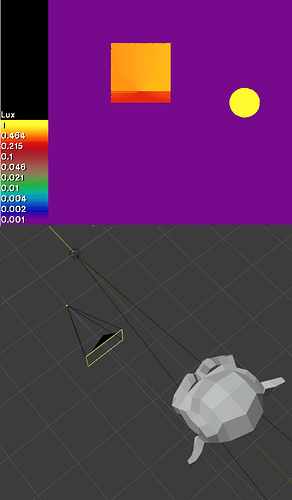 I can clearly see a separation on the fake camera. Can someone explain what's going on?
Additionally, if someone has ideas on how to achieve my goal, I am open to suggestions.
Thanks,
Evan